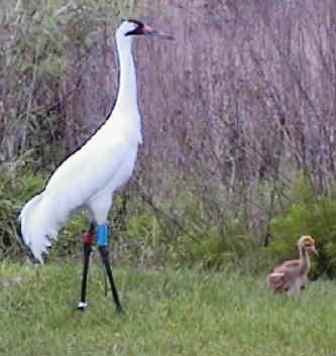 The tallest bird in North America, the Whooping Crane was once at the brink of extinction. It is making a steady recovery thanks to intensive management efforts in Canada and the United States, and As of April 2007 there were about 340 whooping cranes living in the wild, and another 145 living in captivity. The whooping crane is still one of the rarest birds in North America.
Whooping cranes
occurred naturally in the eastern United States until the mid-twentieth century, and there are records of whooping cranes in Florida until the 1930s. The whooping crane is endangered mainly as a result of habitat loss. At one time, the range for these birds extended throughout Midwestern North America.
In order to help the whooping cranes endure, ultra light aircraft has been used to bring them south for breeding. Prior to 2009, all ultra-light led cranes wintered at the Chassahowitzka NWR, located near Crystal River, Florida. After a disastrous storm killed most of the young whooping cranes in 2007, the decision was made to split the flock into two groups. Now, so long as enough eggs are available, some juveniles are led to
St. Marks
and others to Chass. A total of 27 chicks over the past few years have spent their first winter growing into young adults on the St. Marks NWR.
So of the migrating birds don't make their destination and for a bird named Levi, it was the lure of romance that always caused him to fall short of his destination.For six years, Levi, an adult whooping crane, would make the long migration from Wisconsin to Citrus County's coastline only to come up a handful of miles short of his summertime haunts in the marshland of the Chassahowitzka National Wildlife Refuge.Each year when he flew by a female song from a whooping crane in Homosassa Springs Wildlife Park would cause him to fly off course. "She would call out to him when the wild cranes would fly over and he would dive right in here," Art Yerian said the park manager. Finally the decision was made to allow Levi to stay at the park and the result could be so new whooping cranes.