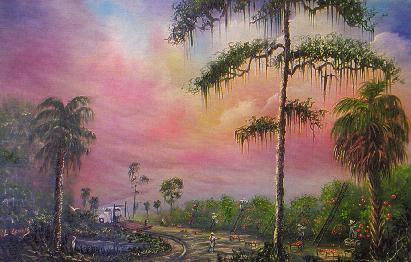 The State of Florida
has many natural resources, and at Floridian Nature we believe that Florida artists are one of our great assets. The definition of an artist is wide-ranging and covers a broad spectrum of activities to do with creating art, practicing the arts and/or demonstrating an art. In honoring artists during
Black History Month
, we chose the
Florida Highwaymen
.
In the early 1950's through the 1980's a group of twenty-six
African-American artists
painted beautiful landscapes that displayed the serene, undeveloped Florida landscape of their time. They were from Fort Pierce, Florida and later became known as the "Highwaymen". The 26 painters latched onto art as a way to escape a more grueling fate: picking or crating oranges in the local groves.
Their artwork was primal and raw depicting idyllic views of the Florida landscape, before rampant development would reconfigure the state's topography forever.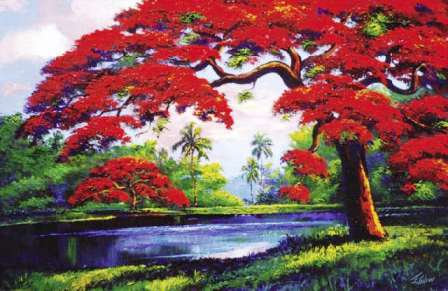 The birth of the Highwaymen can be traced to 1954 in Fort Pierce, Florida, when a young African-American painter named Harold Newton met an established white painter named Albert "Beanie" Backus. Backus encouraged Newton to paint landscapes, and the young man eagerly obliged. Another African-American painter, Alfred Hair, began studying under Backus and for the next few years, Hair, Newton and a widening circle of associates produced Florida landscapes. The Highwaymen artists knew they could make a living painting, but they knew they had to be different. Mr. Backus was a prominent white artist and could sell his paintings for hundreds of dollars in galleries and shows; no gallery would show the work of unknown, self-taught African-Americans.