There have been more and more black bear sightings in Florida. According to the FWC You are more likely to see a panther or a black bear today in Florida than someone here 40 years ago! There was a total of 2,257 Florida black bear sighting reports as of June 2014, with more than 500 of those reports containing uploaded photographs. Sightings of bears were reported in 59 of the state's 67 counties. To report a bear sighting contact the FWC.
The Florida Fish and Wildlife Conservation Commission may be poised to again allow bear hunts in the state. However, Citrus County will be among some of the counties exempt because of low populations of black bears. According to the Citrus County Chronicle, the controversial black bear management plan will be presented by officials at the commission's meeting Feb. 4 to 5 in Jacksonville.
According to FWC officials, the decision about the plan is mainly due to an increase in bear-human interactions which has included attacks on people, bears being struck by vehicles and an exponential increase in calls to the FWC hot line about bears.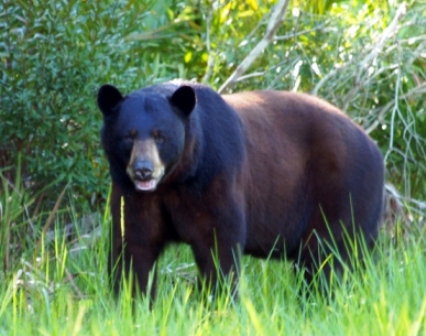 The average black bear male weighs about 350 pounds while a female average weight is 150 pounds. The bears' diet is about 80% vegetation. Foods include berries, acorns, insects and palmetto hearts. The average home range of an adult female black bear is almost 11 square miles' a male's is around 66 square miles. A healthy bear population needs at least 400,000 acres to survive. To protect an area of that size in a highly-developed Florida requires preserving the connections between core habitats. Bears inhabit both wetlands and upland forest habitats.