The Canaveral National Seashore and the Merritt Island Wildlife Refuge
are located midway on Florida's east coast between Daytona Beach and Melbourne. The history of Merritt Island extends from prehistoric times to the space age! Inhabited by Indians since about 7000 B.C., the island in recent years has rocketed to the site of Cape Canaveral, with which the refuge and seashore share a border. The National Park Service protects ten National Seashores in the United States. Canaveral National Seashore is a step into the past, protection for the present, and a doorway into the future. The 100
Timucuan
Mounds that are within it's boundaries are evidence of past generations of people that lived here. Canaveral National Seashore covers 57,000 acres and the 24 mile stretch of undeveloped beach is the longest stretch on Florida's east coast. Fourteen endangered species make their home within Canaveral's boundaries. Kennedy Space Center owns the land that is managed by the National Park Service and Merritt Island National Wildlife Refuge. Joint efforts of three agencies protect it from development and preserve the history, the wildlife and the diverse habitats.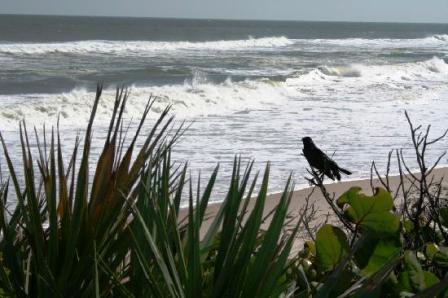 The Wildlife refuge can be explored by car along two nature drives or by foot via two short hiking trails. Either way the range of wildlife is stunning. Many of the 250 bird species that have been observed here make their nests on the refuge, including
great blue herons
, snowy egrets,
turkey vultures
, pi-billed grebes and the rare black skimmers.
The refuge is also home to nineteen endangered species, most notably the
southern bald eagle
and the
brown pelican
. Porpoises,
manatees
, and
whales
are occasionally glimpsed offshore. Canaveral National Seashore serves as an important nesting area for
sea turtles
.