With so many
birds
flying in the beautiful Florida sky, its sometimes easy to forget that some of our
birds are threatened
and even endangered. Woods storks are one of those endangered birds. W
ood storks
are tall, white denizens of freshwater or brackish wetlands and swamps. They can be identified by their long legs, featherless heads, and prominent bills. These waders feed on minnows in shallow water by using their bills to perform a rare and effective fishing technique. The stork opens its bill and sticks it into the water, then waits for the touch of an unfortunate fish that wanders too close. When it feels a fish, the stork can snap its bill shut in as little as 25 milliseconds—an incredibly quick reaction time matched by few other vertebrates. A large, white, bald-headed wading bird of the southeastern swamps, the Wood Stork is the only stork breeding in the United States. Its late winter breeding season is timed to the Florida dry season when its fish prey become concentrated in shrinking pools.
One of the most beautiful birds in Florida is the
Roseate Spoonbill
and although not threatened it is a species of special concern. Prior to the 1850s, there were probably thousands of spoonbills along the Gulf Coast in Texas, Louisiana and Florida. By 1920, plume hunting and colony disturbance largely depleted the spoonbill population in the United States.The most distinctive characteristic of the roseate spoonbill is its long spoon-shaped bill. It has a white head and chest and light pink wings with a darker pink fringe and very long pink legs. The roseate spoonbill is about two and a half feet in length with a wingspan of about four and a half feet. Both males and females have the same plumage and coloring. The male is slightly larger than the female and its bill is a little longer. The roseate spoonbill can be found on the coasts of Texas, Louisiana and southern Florida. It is also found in the tropics and in Central and South America. The roseate spoonbill lives in mangrove swamps, tidal ponds, saltwater lagoons and other areas with brackish water., spending lots of time in the water looking food like small fish, shrimp, mollusks, snails and insects.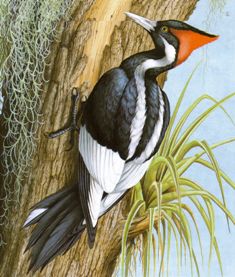 The
ivory-billed woodpecker
is among the world's largest woodpeckers but that hasn't protected it from being endangered. The Ivory-billed Woodpecker is one of several species whose numbers have dwindled to the point where it is uncertain whether any remain. The species is listed as critically endangered and possibly extinct by the International Union for Conservation of Nature. Only the imperial woodpecker of Mexico, now thought by many to be extinct, was larger than the ivory-bill. Averaging about 20 inches in length, the ivory billed woodpecker is frequently mistaken for the smaller but similarly marked pileated woodpecker. Beetle larvae are the primary food source for ivory-bills, which are often the first woodpeckers on dying trees searching for these larvae. Ivory-bills are believed to mate for life. They share the duties of incubating their china-white eggs and raising their young. Stiff wing feathers make the ivory-bill an especially loud flyer!