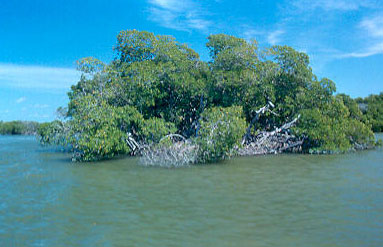 Mangroves
are one of
Florida's true natives
. They thrive in salty environments because they are able to obtain fresh water from saltwater. Some secrete excess salt through their leaves, others block absorption of salt at their roots. Florida's estimated 469,000 acres of mangrove forests contribute to the overall health of the state's southern coastal zone. This ecosystem traps and cycles various organic materials, chemical elements, and important nutrients. Mangrove roots act not only as physical traps but provide attachment surfaces for various marine organisms. Many of these attached organisms filter water through their bodies and, in turn, trap and cycle nutrients.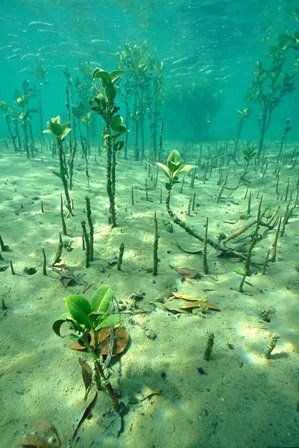 Worldwide, more than 50 species of mangroves exist. Of the three species found in Florida, the red mangrove is probably the most well-known. It typically grows along the water's edge. The red mangrove is easily identified by its tangled, reddish roots called "prop roots." These roots have earned mangroves the title, "walking trees." The mangrove appears to be standing or walking on the surface of the water. Mangroves are common as far north as
Cedar Key
on the Gulf coast and Cape Canaveral on the Atlantic coast. Black mangroves can occur farther north in Florida than the other two species. Frequently, all three species grow intermixed.