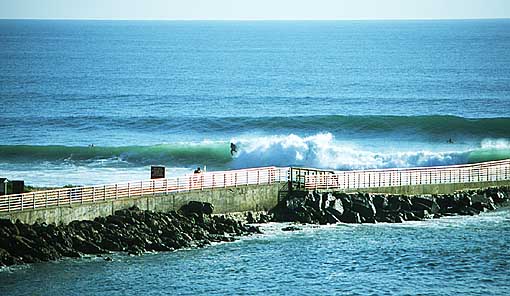 Sebastian Inlet State Park
is a
Florida State Park
located 10 miles south of Melbourne Beach and 6 miles north of Vero Beach, Florida. The park lies on both sides of the Sebastian Inlet. In 2006, it was the sixth most visited state park in Florida. Wildlife is abundant in the park, and the casual visitor can reasonably hope to see
ospreys
and many species of shorebird. Sea turtles nest in the park, and visitors during the summer may make reservations for a nighttime foray to observe nesting Loggerhead Turtles.
Sebastian Inlet State Park is the premier saltwater fishing spot on Florida's east coast, this park is a favorite for anglers nationwide for catching snook, redfish, bluefish, and Spanish mackerel from its jetties. Surfing is also a popular recreation and several major competitions are held here every year. Three miles of beautiful beaches provide opportunities for swimming, scuba diving, snorkeling, shelling, and sunbathing. Canoeing and kayaking in the Indian River Lagoon are also favorite pastimes. Visitors can relax with a stroll down the mile-long Hammock Trail. Waterfront pavilions and picnic areas are great for family outings. The park mainly provides leisure activities, particularly fishing from both its Atlantic and Indian River shores; fishing jetties extend from both sides of the inlet into the ocean. There are facilities for swimming, surfing, snorkeling and scuba diving from the 3 miles of Atlantic beach. Boats can be launched into the Indian River, and there is a marina complex at the north end of the park. Camping is permitted in designated area. Sebastian Inlet State Park is a must visit for Floridian nature lovers!
Sebastian Inlet is also where this picture was taken. I found this on FWC's Facebook page and they said the photo was supplied by
John Bailey, who took this amazing picture. He reportedly spotted a bobcat staring into the water at Sebastian Inlet State Park last evening while he was taking a stroll. He realized the cat was transfixed on a shark feeding on smaller f

ish. Suddenly, the bobcat leaped into the water atop the shark and dragged it ashore! Bailey took the photo and the cat dropped its catch and ran into the forest.