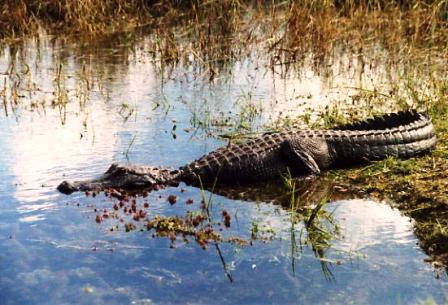 Everglades National Park contains the southern 25 percent of the original
Everglades
marshland region of southwestern Florida. The park visited by one million people each year and has been declared an International Biosphere Reserve, a World Heritage Site, and a Wetland of International Importance, only one of three locations in the world to appear on all three lists. The Everglades is a slow-moving system of rivers, flowing southwest at about .25 miles per day, fed by the Kissimmee River and Lake Okeechobee.
Unlike most other U.S. national parks, Everglades National Park was created to protect a fragile ecosystem instead of safeguarding a geographic feature. Floridians hoping to preserve at least part of the Everglades first proposed that the area become a national park in 1923. Five years later, the Florida state legislature established the Tropical Everglades National Park Commission to study the formation of a protected area. Thirty-six species designated as threatened or protected live in the park, including the
Florida panther
, the
American crocodile
, and the
West Indian manatee
. Protecting the largest U.S. wilderness area east of the Mississippi River, the park is the most significant breeding ground for tropical wading birds in North America, and contains the largest
mangrove ecosystem
in the western hemisphere. More than 350 species of birds, 300 species of fresh and saltwater fish, 40 species of mammals, and 50 species of reptiles live within Everglades National Park. All of southern Florida's fresh water is recharged by the park, including that of the Biscayne Aquifer.
Florida panthers once enjoyed their perch atop the food chain across a vast dominion. They were all over the Florida peninsula, from the Panhandle to the Everglades. The biggest threats to the remaining panthers are their health and continuing loss of habitat. Florida panthers have an unusually large number of health problems. Most are related to poor habitat conditions and genetic defects. Around the Everglades, panthers have been contaminated with mercury by eating
raccoons
high in mercury, which passes through the aquatic food chain. It's sad to say that Florida panthers are killed by cars and trucks, particularly on State Road 29 and Alligator Alley (I-75), and, although it is against the law, hunters still shoot panthers occasionally.