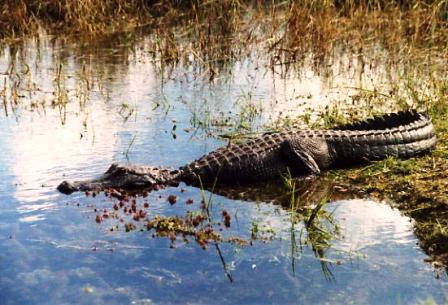 Everglades National Park
, the largest subtropical wilderness in the United States, boasts rare and endangered species. The largest body of water within the park is Florida Bay, which extends from the mangrove swamps of the mainland's southern tip to the Florida Keys. Over 800 square miles of marine ecosystem lies in this range. Coral, sponges, and seagrasses serve as shelter and food for crustaceans and mollusks, which in turn are the primary food source for larger marine animals.
Sharks
, stingrays, and barracudas also live in this ecosystem, as do larger species of fish that attract sport fishing.
Pelicans
,
shorebirds
, terns, and
black skimmers
are among the birds frequenting park shorelines. Everglades National Park contains the southern 25 percent of the original
Everglades
marshland region of southwestern Florida. The park visited by one million people each year and has been declared an International Biosphere Reserve, a World Heritage Site, and a Wetland of International Importance, only one of three locations in the world to appear on all three lists. The Everglades is a slow-moving system of rivers, flowing southwest at about .25 miles per day, fed by the Kissimmee River and Lake Okeechobee.
Unlike most other U.S. national parks, Everglades National Park was created to protect a fragile ecosystem instead of safeguarding a geographic feature. Floridians hoping to preserve at least part of the Everglades first proposed that the area become a national park in 1923. Five years later, the Florida state legislature established the Tropical Everglades National Park Commission to study the formation of a protected area. Thirty-six species designated as threatened or protected live in the park, including the
Florida panther
, the
American crocodile
, and the
West Indian manatee
. Protecting the largest U.S. wilderness area east of the Mississippi River, the park is the most significant breeding ground for tropical wading birds in North America, and contains the largest
mangrove ecosystem
in the western hemisphere. More than 350 species of birds, 300 species of fresh and saltwater fish, 40 species of mammals, and 50 species of reptiles live within Everglades National Park. All of southern Florida's fresh water is recharged by the park, including that of the Biscayne Aquifer.