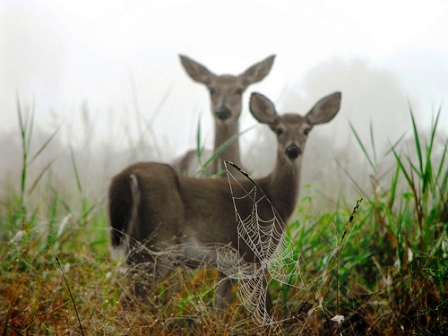 Paynes Prairie
is biologically, geologically, and historically unique. Payne's Prairie is located south of Gainesville, Florida, in Micanopy. This park became Florida´s first state preserve in 1971 and is now designated as a National Natural Landmark.
The water in this huge saucer-like basin has had a way of coming and going because of a sinkhole in one corner. From time to time the sink would fill with debris and the water would rise and remain. Years later the sinkhole would become unplugged, the water would drain away and the area would revert to savanna. In 1892 a small steamer plying the lake was stranded when the water suddenly disappeared. Since then the basin has remained a treeless prairie.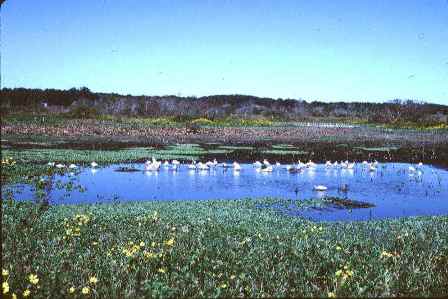 The La Chua Trail, part of the 21,000-acre Paynes Prairie State Preserve, is at the southeast edge of Gainesville. The trail traverses an immense patchwork of fields and marshes. The grass and brush along the first stretch can be very good for sparrows in winter. A short side trail here leads to a pond, Alachua Sink, where you can see waders and, during periods of low water,
shorebirds
. The trail proceeds into wetter habitats, with a drainage canal on one side and marshes on the other, until it reaches the shallow weedy open water of Alachua Lake, the center of the Paynes Prairie basin.
The Bolen Bluff Trail is on the south side of Paynes Prairie State Preserve. The trail is divided into two parts. There's an upland loop, about half of which is dry woodland dominated by laurel, live, and water oaks while the other half is shady mesic hammock forested with swamp chestnut oaks and magnolias; there are a few small ponds along the latter stretch. At the far end of the loop, a spur trail, the Bolen Bluff Dike, descends onto the Prairie basin, running through open brushy and marshy habitats for three-quarters of a mile (one-way) to an observation platform.