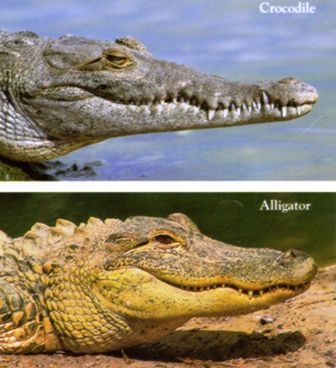 Similar in looks to an alligator, the American crocodile is a large reptile found in salt and brackish waters in southern Florida Unlike the alligator, which lives in freshwater, Florida's native crocodile is an inhabitant of salt water shorelines. There are far less crocodiles than alligators in Floridian nature and most of Florida's crocodile can be found along the mangrove bordered southern shores of Everglades National Park.
When Spanish settlers first saw the Alligator they named it "el lagarto", meaning "the lizard". The Florida alligator is an ancient reptile that is only found in the Southeastern United States, from Texas to as far north as North Carolina. The only other species of alligator in the world is found in China, but that one is much smaller and very rare.
Many people believe that crocodiles are more ferocious and dangerous to man than the alligator. This may be true of the infamous Nile Crocodile and other South American crocodiles, but the native Florida crocodile is much shyer than the alligator and is quick to make a hasty retreat at the approach of humans. Once hunted intensively for their hides, today, loss of habitat to human development, illegal killing and roadkill are the greatest threats faced by American Crocodiles.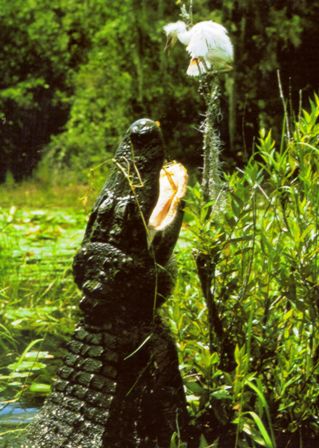 The Alligator has an armored black, lizard-like body, with muscular tails and short stocky legs. They are fast predators on both land and water, able to run as fast as 20 mph for short distances. The massive jaws of the alligator's open mouth reveals 70-80 white pointed teeth, designed to grasp, hold and crush its prey!
Adults generally take one of two forms: long and thin or short and stocky. Female alligators rarely exceed 9 feet in length, but males can grow much larger. The Florida state record for length is a 14 foot 5/8 inch male, while the state record for weight is a 1,043 pound (13 feet 10 1/2 inches long) male.
Crocs can swim at as much as 20 miles per hour by moving their body and tail in a sinuous fashion, but they cannot sustain this speed. South Florida is the only place in which the crocodile and the alligator occur together. Although there are reports of crocodile growing to 23 feet in South America, the record for Florida is a 15 foot male. American Crocodiles average between 7-15 feet and have an average weight of 150-450 pounds. A croc has an average lifespan of 60-70 years.