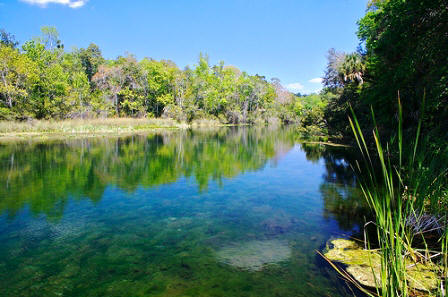 The Ocala National Forest is a great place to enjoy
Floridian nature
. Located in central Florida between the Ocklawaha and
St. Johns Rivers
. The Forest is approximately 383,000 acres and is the southernmost forest in the continental United States. The Ocala National Forest is rich in water resources with more than 600 lakes, rivers, and springs.
Water plays an important part in a variety of recreational opportunities on the forest. There are huge springs, twisting streams and
lakes
for fishing and water skiing. Many of the scenic lakes were formed when limestone bedrock dissolved, permitting the surface layer to slump and fill with water. Snorkelers frequently find a thrilling underwater view of fish, swaying vegetation and cavernous springs. No wonder the Ocala National Forest is one of the most heavily used National Forests in the United States.
I saw this photo in the Ocala Star Banner. According to the article Richard Jones snapped the photo as he and he family were walking along the Ocklawaha River watching alligator. The family thinks the
raccoon
was starteld and jumped on the nearby alligator by accident. While both alligators and raccoons are abundant in the Ocala National Forest, we don't see them interacting this closely very often.
The Florida Alligator has an armored black, lizard-like body, with muscular tails and short stocky legs. They are fast predators on both land and water, able to run as fast as 20 mph for short distances. The massive jaws of the alligator's open mouth reveals 70-80 white pointed teeth, designed to grasp, hold and crush its prey! The alligator snout is broad with the edge of the upper jaw overlapping the teeth of the lower jaw. The alligators silvery eyes sit back on the top of the head, and they have excellent vision, even at night. Alligators Eyes will shine red when you shine a light on them at night Alligators have two sets of eyelids. One set is similar to humans, while the second set of eyelids is transparent, allowing the gator to see clearly underwater. Florida Gators also have a keen sense of smell.