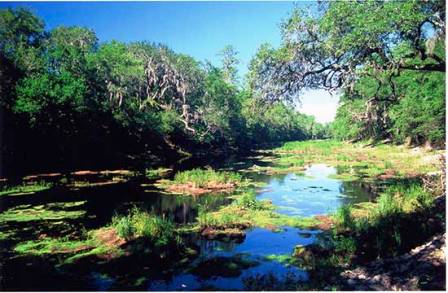 Located in the southeastern corner of Hamilton County, B
ig Shoals Public Lands
was purchased from the Nature Conservancy by the
State of Florida
in 1986 through the Conservation and Recreational Lands (CARL) program. It was designated as a state forest in March of 1989.
The river offers excellent opportunities for freshwater fishing. The fishing is excellent and due to limited public access, others are rarely seen. The entire adjacent river frontage from Deep Creek is either Big Shoals State Park or Big Shoals State Forest. Almost all signs of civilization are completely absent. The only local landing is the historic private landing on the plantation itself, Brown's Landing. From this site, outboards are easily launched or canoes picked up from a float down Deep Creek itself or down the
Suwannee River
Wilderness Trail. The Florida National Scenic Trail runs along the property's south boundary. This trail is Florida's version of the Appalachian Trail and runs some 1,400 miles through the state.
Birding enthusiasts will find a large variety of species at Big Shoals, including
herons
and egrets,
wood ducks
,
red-tailed hawks and red-shouldered hawks
,
woodpeckers
,
barred owls
, ruby-throated hummingbirds, warblers, vireos,
wrens
, swallows and thrashers.
Wild turkeys
are usually plentiful and wading birds make regular visits.
Bald eagles
,
northern mockingbirds
, scarlet tanagers, and indigo buntings also have been counted.
Wading birds
,
gopher tortoise
, barred owls,
pileated woodpeckers
, wild turkeys,
white-tailed deer
and
timber rattlers
are among the more populous species found at Big Shoals Public Lands. Marked trails offer many opportunities for viewing wildlife at both the Big Shoals and Little Shoals entrances.