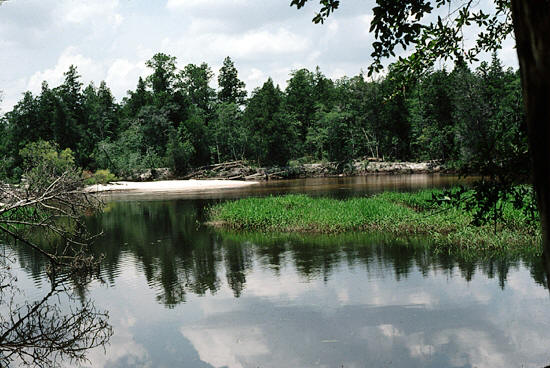 Blackwater River State Park is considered one of the purest sand-bottom
rivers
in the world, the Blackwater River is in its natural state for almost its entire length. Beginning 45 miles upstream in Alabama, it continues downstream for 13 miles before emptying into Blackwater Bay. The river's sand bottom, dark tannin waters and contrasting large, white sandbars have drawn worldwide attention and provide the perfect setting for this 590- acre park. The river attracts paddlers from far and wide and has been designated a Florida canoe trail. The last two miles of the trail are located within the park. Besides being a favorite destination for canoeists and kayakers, Blackwater River offers opportunities for a variety of outdoor recreation. The river is one of the purest sand-bottom rivers in the nation, making this park a popular place for swimming, fishing, camping, and paddling. Shaded campsites are just a short walk from the river, and visitors can enjoy a picnic at a pavilion overlooking the river.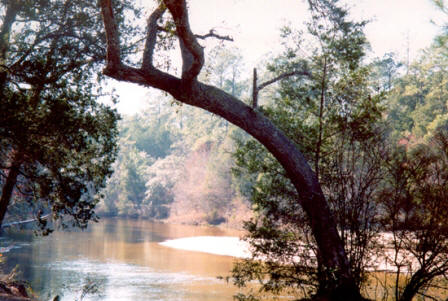 Upland
pine forests
dotted with
persimmon
,
turkey oak
, sweetgum, flowering dogwood and other shrubs are found in the park. Open canopy forests combine different types of pine and dense groundcover such as
gallberry
, s
aw palmetto
, wiregrass, wild blueberry and wax myrtle. Along the river and large streams in the floodplain area, the forest is dominated by various species of oaks and hickory, red maple, sycamore, magnolia, holly, tupelo and azaleas. The water level in the floodplain and swamp lakes fluctuates and may even become completely dry. Plants vary according to the water supply. Look for water fern, water lily, coontail, bladderwort, spatterdock and other emergent plants.
White-tailed deer
,
bobcats
and
turkeys
are quite common.
River otter
may be seen occasionally and the graceful Mississippi kite is often observed soaring overhead in the summer.
The park has such amenities as birding, boating, canoeing, fishing, hiking, kayaking, picnicking areas, swimming, tubing, wildlife viewing and full camping facilities. The main picnicking area has covered picnicking pavilions, restrooms, and a spacious parking lot. Bring your tubes and enjoy a leisurely float down the river to the Deaton Bridge. It is a short 1 mile hike back to the parking lot to retrieve your vehicle. Very kid friendly park with a variety of areas for swimming.
Blackwater River State Park was established in 1967. The park opened to the public on November 22, 1968 and consisted of 360 acres. On July 17, 1981, the park acquired 230 acres from the Division of Forestry. Today, the park contains 590 acres of upland pine forests, swamps, and scrubby ridges and is surrounded by the Blackwater River State Forest. Atlantic white cedars line the river and the 1982 Florida Champion, recognized as the largest of its species, is found within the park. The park was also certified as an official Registered State Natural Feature in 1980 for possessing "exceptional value in illustrating the natural history of Florida".